DESIGNER
Alessio Boschi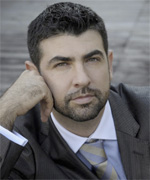 Award winning Italian artist and designer Alessio Boschi directed the design and carving of the Millennium Sapphire. Boschi has an international reputation for innovative eclat and intense precision for detail. His work has been on display in New York's Metropolitan Museum of Art and international art exhibitions. As the creative director behind this masterpiece, he transfigured the rough gemstone into a monument of human triumphs.
Here are some of the competitions and exhibitions where Boschi's work was shown:
CHARLES PERROUD S.A., international competition, Lyon (France), 1992
Ex aequo winner
AMBRA PERFUME, SOLARI JEWELS, annual competition, Fashion Academy, Rome, 1992
Second on the list and stage winner to the ANSUINI in Rome.
A JEWEL FOR THE LIFE, exhibition, New York, 1992
Four drawings exhibited in the Metropolitan Museum
ROTARY CLUB, jewelry competition, Velletri, 1992
Selection and realization of two projects inspired by Rotary's wheel
FASHION ACADEMY, "Francesco Campagna" grant, Rome, 1993
A JEWEL FOR THE NATURE, 4th competition Napolitan school of jewelry art, Naples, 1993
COSMIC JEWELS: SPACE, TIME, EXCAPING UNIVERSE, Fashion Academy, Rome, 1993
Second in the list and stage winner at UNOAERRE.
IL BRACCIALE DEL 2000, C.N.A., Rome, 1993
VICENZAORO I, in collaboration with World Gold Council, Vicenza, 1994
Exhibition of three objects for the new goldsmith trends
KOFU PEARLS CONTEST '94, competition, Kofu (Tokyo), 1993
NEW JOYS, Gems Relations International, Rome, 1994
EASTERN GOLDS: A BRIDGE TO THE WEST, Fashion Academy exhibition, Rome, 1994
CHOPARD, international competition, Milan, 1995
Ex aequo competition winner for the choice of a free lance designer
ITALIAN CHAMBER OF COMMERCE IN FRANCE, presentation of the new collection "The giants of Mihail", Paris, 1998
UTOPIA PEARLS, international competition for South Sea pearls, Milan, 1998
Publications
ACCADEMIA DI COSTUME E DI MODA, Rome, exhibitions catalogues of the years 1992, 1993 and 1994
IL TEMPO, 5th of June 1992
ARGENTO, n. 36, December 1993
L'ORAFO ITALIANO, n. 12 1997, n. 1, n. 4, n. 7 and 8 1998
GOLD TRENDS '94 - WORLD GOLD COUNCIL
VOGUE GIOIELLO, n. 35
MIHAIL, catalogue 1995
L'OFFICIEL, France, July 1996
KOSMIMA, 1995, 1996 and 1997, presentation catalogues of the Greek jewelry in the page of Gika Bros of Athens
LE FIGARO, Paris 9th October 1996
PERLE DI TAHITI, book 1997 "Tahiti pearls Tahiti seen by new designer" (see Mihail)
BIJOUX, MONTRES & VOUS, France February 1997
Collaborations and Stages
MARIOTTI ET BALLAND, Paris, company that works for Place Vendôme
GIUSEPPE BELLAGAMBA, Rome
CHARLES PERROUD S.A., Lyon
UNOAERRE, Arezzo, stage, 1993
WORLD GOLD COUNCIL, Milan
ANSUINI, Rome
BAROCCI, Rome
GIANSANTI, Rome
MATSUMURA COMPANY, Kofu (Japan)
MAURO LEONI, Velletri
QUATTROCOLO, Rome
ROCCHETTI, Rome
EMM VASSILIADIS SONS S.A. - MIHAIL, Athens, internal designer from 1995 to April 1999
JMA GOLD, Thessalonique (Greece)
GIKAS BROS, Athens
DELOS, Athens
DIMITRIS SABANIS, Athens
KESSARIS, Athens
ALEXANDER GOLD, Athens
PORCHET, Paris
DAMASCOS, Athens
DAL LAGO, Valenza
BICEGO, Vicenza